SOCIALIZATION OF THE REGULATION OF SUPREME COURT NUMBER 3 OF 2016 AND THE DUTY OF LPS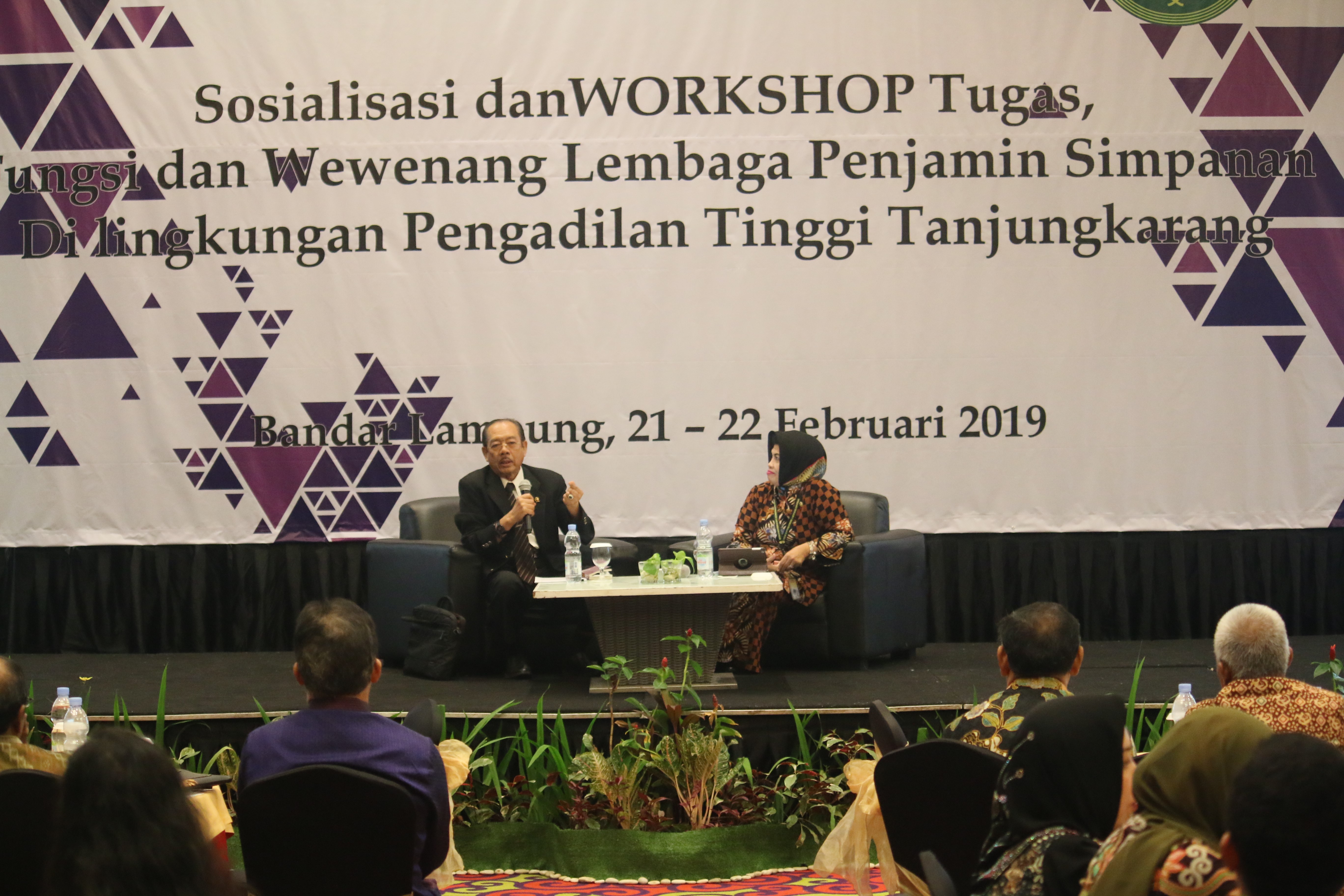 Lampung – Public Relation: On behalf of Supreme Court of the Republic of Indonesia, Public Relation and Legal Affairs Bureau, Tanjung Karang High Court and The Deposit Insurance Corporation (LPS) socialize the job and function of LPS and hold workshop on Procedures for Submitting Objection and Redemption to the District Court in Land Procurement in Development for Public Interest.
The occasion which held since Thursday till Friday (February 21-22) in Novotel Hotel, Lampung intended to socialize on system and pattern of LPS job and technic policies which contained in the Regulation of the Supreme Court (Perma) Number 3 of 2016.
The socialization followed by approximately 50 participants which consist of High Judges, Chiefs Judge of District Court, Vices Chief Judge of District Court, Registrars, and Secretaries of District Court in Tanjung Karang High Court area. The speakers of this occasion are Chief Chamber of Civil Cases of the Supreme Court Soltani Mohdaly, and Director of Litigation Group of LPS)Arie Budiman.
Chief Chamber of Civil Cases describes deeply Perma Number 3 of 2016. According to Perma each person must support the efforts to accelerate the provision of infrastructure, including the procurement of land for public interest. "However, in the process of deliberations on land acquisition and compensation often disagreements occur. This is where the parties entitled to land can submit objections to the district court to decide the form and or amount of compensation." Said Soltoni.
The participants who most of the leaders of court was really enthusiastic on what Soltoni explained and they curious and question about custody of compensation in the district court and the stages of examination of objections by the judge.
Besides, in the opening of the occasion, Director of Legal Executive LPS Robertus Bilitea said that one of development source is banking, and banking was managed the community money, even though the management money of community was mismanagement by bank organizer. "For that reason, this event hold to activate synergy and to synchronize view of legal enforcer on LPS." Robert said.
In the same time, Chief Judge of Tanjung Karang High Court Zaid Umar Bob, SH., MH, says that this socialization is crucial for capacity building for all judges. "Moreover, if there are legal issues that must handle at the hearing and it turns out to involve LPS as one of the parties. So the judges must fully understand the duties, functions and authorities of the LPS" Bob said. (Jimmy/Cakra/azh/RS)