CHIEF JUSTICE OF SUPREME COURT LED VIRTUAL RETIREMENT COMMENCEMENT OF CHIEF JUDGE OF YOGYAKARTA HIGH RELIGIOUS COURT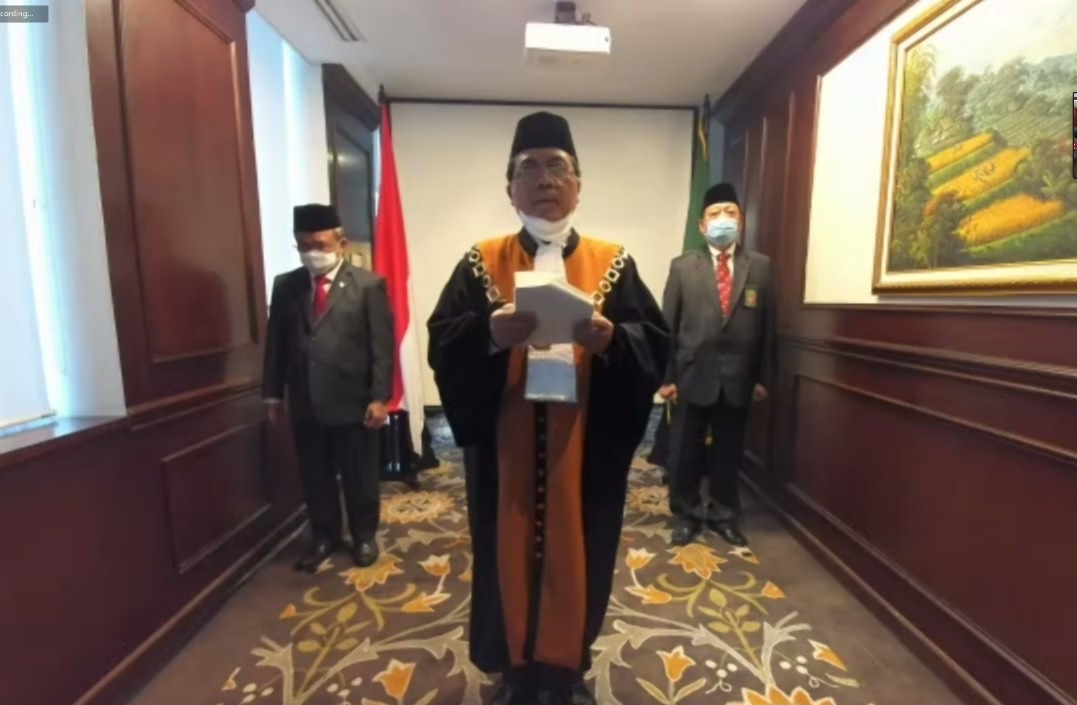 Jakarta – Public Relation: Chief Justice of Supreme Court, Dr. H. M. Syarifuddin, SH., MH, led virtual retirement commencement of Chief of Yogyakarta High Religious Court, Said Munji, SH., MH, on Tuesday, June 30th, 2020 in Chief Justice work room, Jakarta.
In his speech, Chief Justice said that based on Covid-19 protocol and limitation of assignment out of city, then this was the very first time for Dr. Syarifuddin as the Chief Justice to lead virtual retirement commencement. The former of Vice Chief Justice for Judicial Matters hope that the sacred of the event could not be outdated, and he hope also all participants can follow the session solemnly.
As judge Said Munji has a long challenging journey. He ever get assigment as Religious Judge at Jakarta Pusat Religious Court and Jakarta Utara Religious Court, these journeys were not easy for Said, if there is no constancy of faith, it will be inconstancy career journey. According to that, Dr. Syarifuddin said that challenging carrier journey of Said both as judge or chief judge of court are fundamental of his sincerity at work. Syarifuddin added that the real fundamental in work is actually given to all judges and apparatus too. This fundamnetal according to Syarifuddin was found in Al-Qur'an Surah Attaubah verse 105 which written "Do [as you will], for Allah will see your deeds, and [so, will] His Messenger and the believers. And you will be returned to the Knower of the unseen and the witnessed, and He will inform you of what you used to do."
The retirement commencement was something waited for by all officials who have been retired safely. This ceremony was not moment to end career as leader of court only but this ceremony is the top of completeness in serving as judge.
Indeed, retirement commencement was process to give appreciation of chief judge dedication in serving his/her job as vorpost of Supreme Court. According to Syarifuddin role of chief judge was definetly strategic, especially in controlling, supervising of court judges and apparatus of Supreme Court subordinate judicial bodies.
In the end of his remarks, Dr. Syarifuddin congratulated to Said, "Welcome to retirement and congratulation on become Perpahi (Indonesian Judges Retiree Association) member. I hope Said can still actively communicate and sillaturrahim with all apparatus in court and Supreme Court as well Mrs. Said Munji can keep in touch with all members of Dharmayukti Karini," said Syarifuddin.
This virtual retirement commemoration attended by Chairman of Religious Chamber and Director General of Religious Court Bodies. (Public Realtion/ Translator:azh/Editor:RS)