CHIEF JUSTICE OF THE SUPREME COURT OPENS VIRTUAL KICK OFF MEETING OF SURVEY IN FRAME OF DEVELOPING LEGAL INFORMATION OF CORRUPTION CASE GENERATOR APPLICATION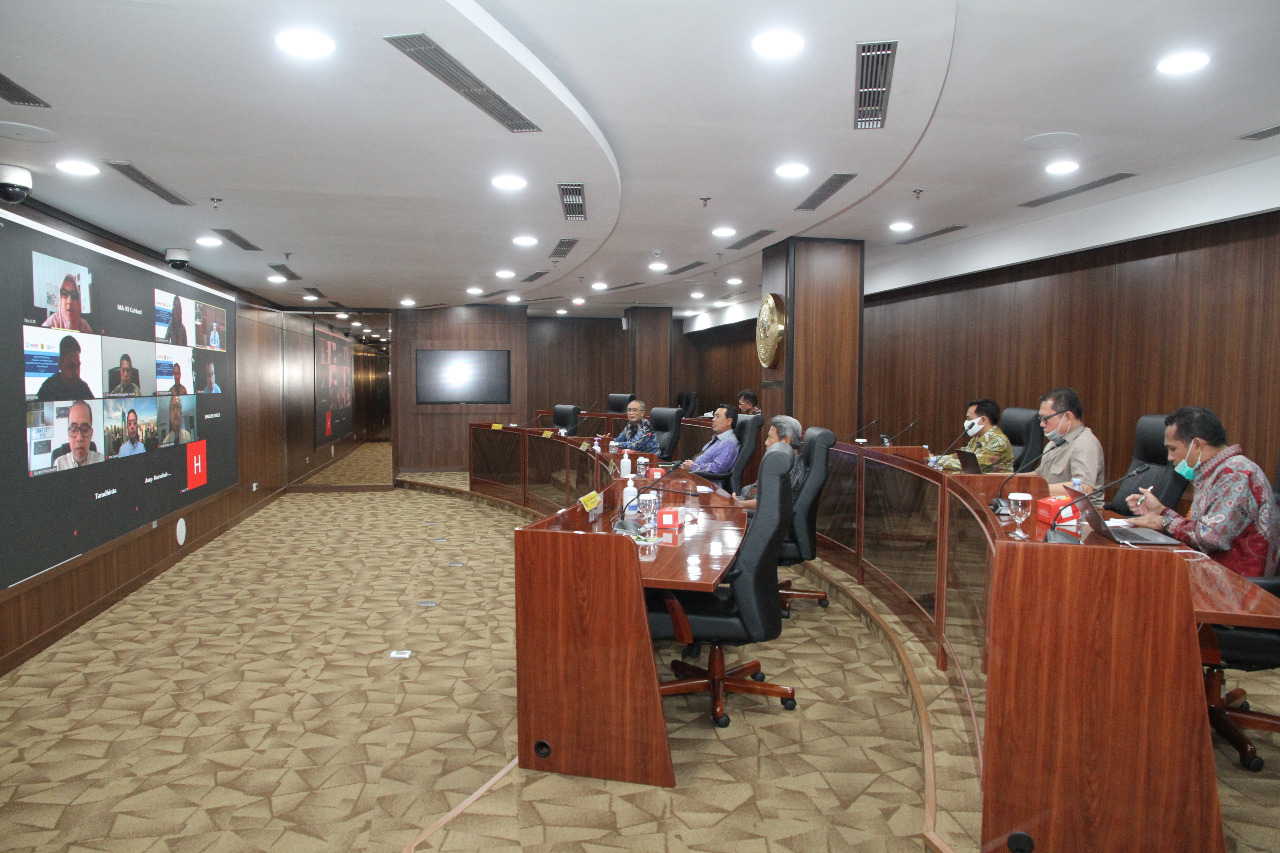 Jakarta – Public Relations: Chief Justice of the Supreme Court, Dr. H.M. Syarifuddin, SH., MH opens virtual kick-off meetings of the survey in frame of developing legal information of corruption case generator application on Friday, July 3rd, 2020 in Command Centre of the Supreme Court, Jakarta. This application is a cooperation between the Institute for Criminal Justice Reform (ICJR) and Research and Development Center For Law And Judiciary of the Supreme Court.
In his remarks, the Chief Justice delivers that developing Legal Information Generator Application (LIGA) is very essential for the Supreme Court need and its subordinate judicial bodies. He adds this application related to the vision and mission of the Supreme Court in realizing modern court based on information and technology. More than that, this cooperation is enhancing the chamber system in the Supreme Court as an effort to build legal unity in cases that exist in court especially cases that settled in the cassation level.
The aim of developing this Legal Information of Corruption Case Generator Application is internally used as equipment for justices in finding relevant information with corruption cases handled. Next, this application will be contained four features, first is a catalog of regulation: contains all regulation related to corruption included Memorie van Toelichting (MvT), reviewing regulation; second is a catalog of summary of decision; contains decision consideration related to cases that related to norm implementation in Act or regulation related, third is a catalog of expert opinion that published in pers: contains expert opinion that uploaded and published in accredited pers by Dewan Pers (Press Council), and forth is a catalog of expert opinion that cited in Decision Consideration; contains expert opinion that becomes a reference in court decision consideration related to norm interpretation or implementation.
This virtual meeting also attended by Vice Chief Justice for Non-Judicial Matters, Heads of Chambers, the Secretary, the Registrar, Head of Research and Development Center For Law And Judiciary of the Supreme Court Agency, and Officials Echelon II. (Public Relation/translator:azh/editor:RS)