CHIEF JUSTICE OF THE SUPREME COURT INAUGURATES 4 CHIEF JUDGES OF HIGH COURT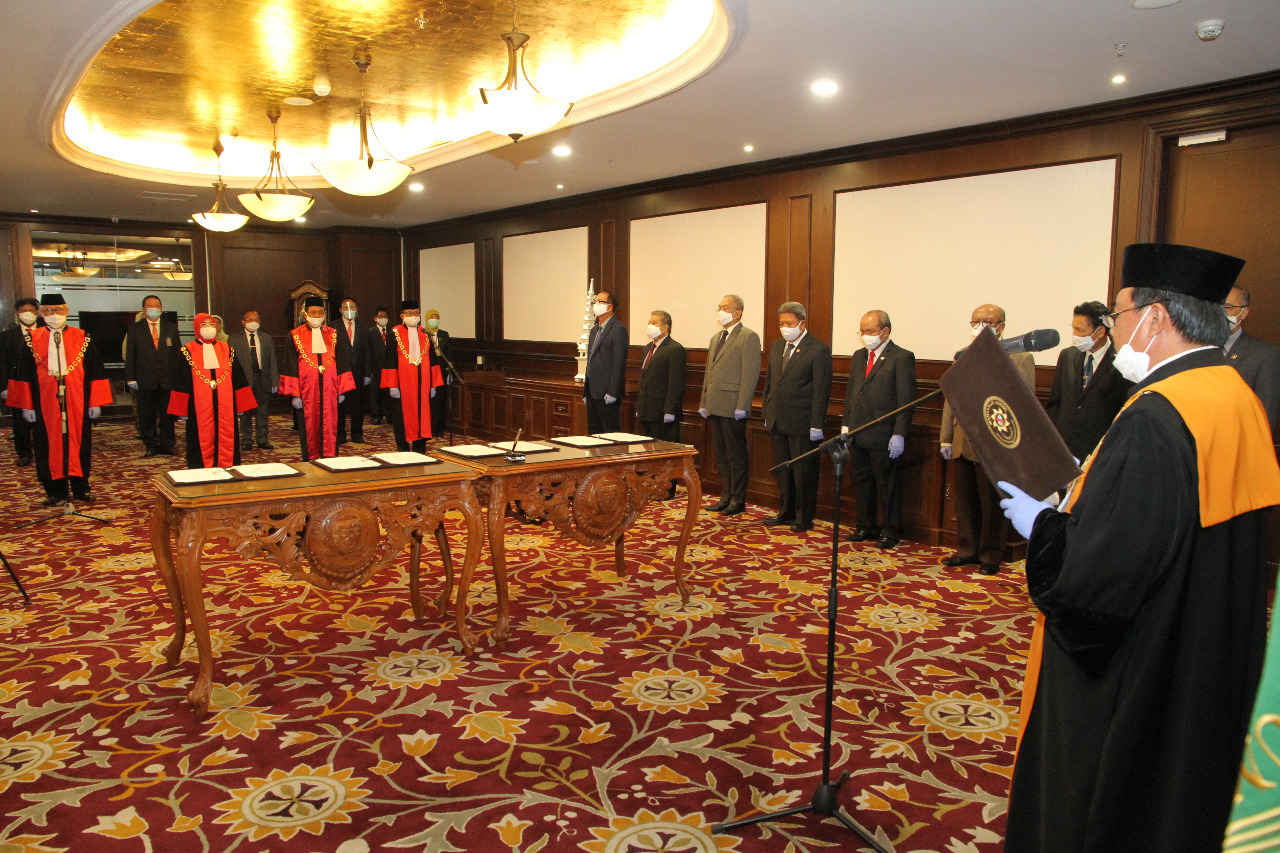 Jakarta – Public Relation: Chief Justice of the Supreme Court, Dr. H.M. Syarifuddin, SH., MH, inugurates and takes oath four Chief Judges of High Court on Monday, July 6th, 2020 in Supreme Court building, 13th floor, Jakarta.
Four judges inaugurated are, first is Nugroho Setiadji, SH, as Chief Judge of Gorontalo High Court. Nugroho previously served as Head of Oversight Agency. Second is Ashnawati, SH., MH, as Chief Judge of Bangka Belitung High Court. Ashnawati previously was Vice Chief Judge of Bangka Belitung High Court. Third is Dr. H. Lexsy Mamonto, SH., MH as Chief Judge of Maluku Utara High Court, and the fourth is Respatun Wisnu Wardoyo, SH., as Chief Judge of Banten High Court.
The inauguration based on the Decree of Chief Justice of Supreme Court number 139/KMA/SK/VI/2020 on Promotion and Mutation of Chief Judge, Vice Chief Judge, High Court Judges in General Court Bodies, dated June 10th, 2020.
In front of the Chief Justice, four inaugurated judges swear that they will truly be the Chief Judge of the High Court directly or indirectly not giving or promising anything to anyone. They also promise to do or not do something in this position and will not receive directly or indirectly something promises or gifts.
In the same occasion, they also swear that they will carry out office honestly, thoroughly, and does not discriminate against people in carrying out the obligations. They also promise to act as well as possible, and as fair as is appropriate for a Chief Judge of the High Court who is virtuous and honest in enforcing law and justice.
This official ceremony that started with singing Indonesia Raya song and Mahkamah Agung hymn, held by applying strictly Covid-19 protocol such as physical distancing and wearing mask and gloves.
After closing of inauguration, Chief Justice, Vice Chief Justice for Non Judicial Matters, Heads of Chambers, Officials of Echelon 1 and 2 of the Supreme Court congratulates to four judges inaugurated. (DS/RS/Photo:PN) (Translator:azh/Editor:RS)