CHAIRMAN OF CIVIL CHAMBER OF THE SUPREME COURT UNLOCKS THE VIRTUAL E-COURT APPLICATION DEVELOPMENT FOR LEGAL FEATURE IN YOGYAKARTA REGIONS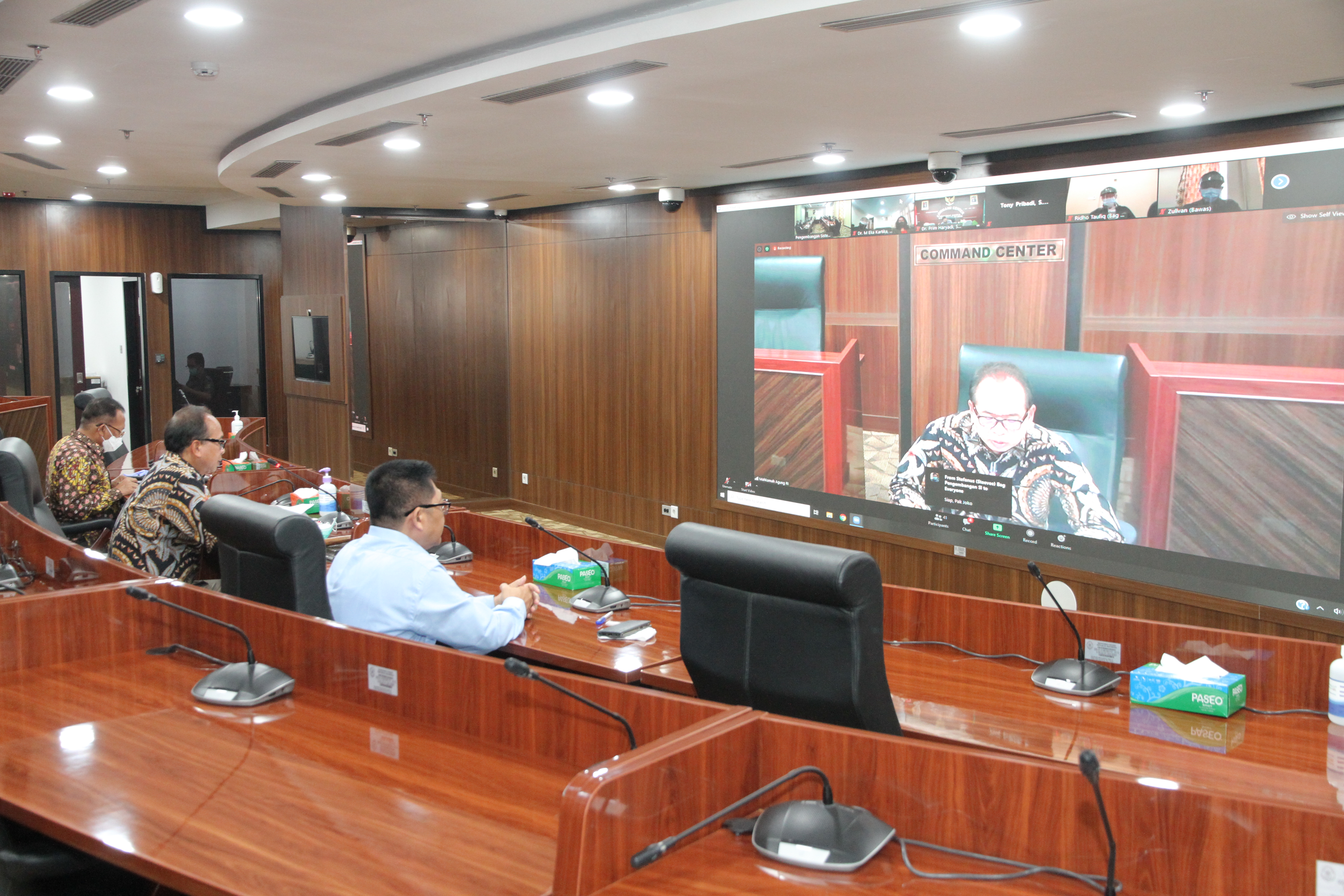 Jakarta–Public Relations: Chairman of Civil Chamber of the Supreme Court I Gusti Agung Sumanatha, S.H., M.H., unlocks virtual E-Court Application Development for Legal Action Feature in Yogyakarta areas on Tuesday, July 14th, 2020 at Command Centre of the Supreme Court, Jakarta. At this event, the Chairman accompanied by Secretary of the Supreme Court A.S. Pudjoharsoyo, S.H., M.Hum., and also Head of Public Relation and Legal Affairs Bureau Dr. Abdullah, S.H., M.S.
The Chairman in his remarks says that even though in covid-19 outbreaks, the Supreme Court will not discourage to keep develop quality and quantity performance, it will keep working in realizing the vision and mission to adapt to the revolution of Industry 4.0. In a frame of realizing electronic court, the Supreme Court develops consistently and continuously system and application to realize constitution mandate namely simple, fast, and low-cost court.
According to I Gusti Agung Sumantha, the Supreme Court has issued concrete evidence of the Supreme Court's commitment to accelerate in providing service to the public. One of the evidence is the Supreme Court Regulation Number 1 of 2019 on Case Administration and Hearing in Court electronically. It followed by the Decision of Chief Justice of the Supreme Court Number 271/KMA/SK/XII/2019 of December 31st, 2019 on Guiding of Case Administration Technique and Hearing in Appellate Court, Cassation Level, and Judicial Review electronically.
Furthermore, the Chairman adds that Covid-19 pandemic was influencing all aspects of life, includes in slowing efforts in making application of appellate, cassation, and judicial review. According to this slowing, Chief Justice of the Supreme Court supports to accelerate, so that in meeting on July 3rd, 2020 the Supreme Court targets to finish e-court application development for legal action feature Appellate Court electronically.
At the end of the remarks, I Gusti Agung Sumanantha states that intensify implementation will accelerate application finishing, so it can be activated in providing service especially for justice seekers.
This virtual event followed by Head of Ease of Doing Business workgroup team, Director General of General Court Body, Chief Judge of Pekanbaru High Court, Chief Judge of Bengkulu High Court, Chief Judge of Yogyakarta High Court, Chief Judge of Yogyakarta Religious High Court, Head of Planning and Organization Bureau of the Supreme Court, and Chiefs Judge of District Court. (Public Relations/translator:azh/editor:RS)