CHIEF JUSTICE SYARIFUDDIN OPENS VIRTUAL DISCUSSION WITH AIPJ 2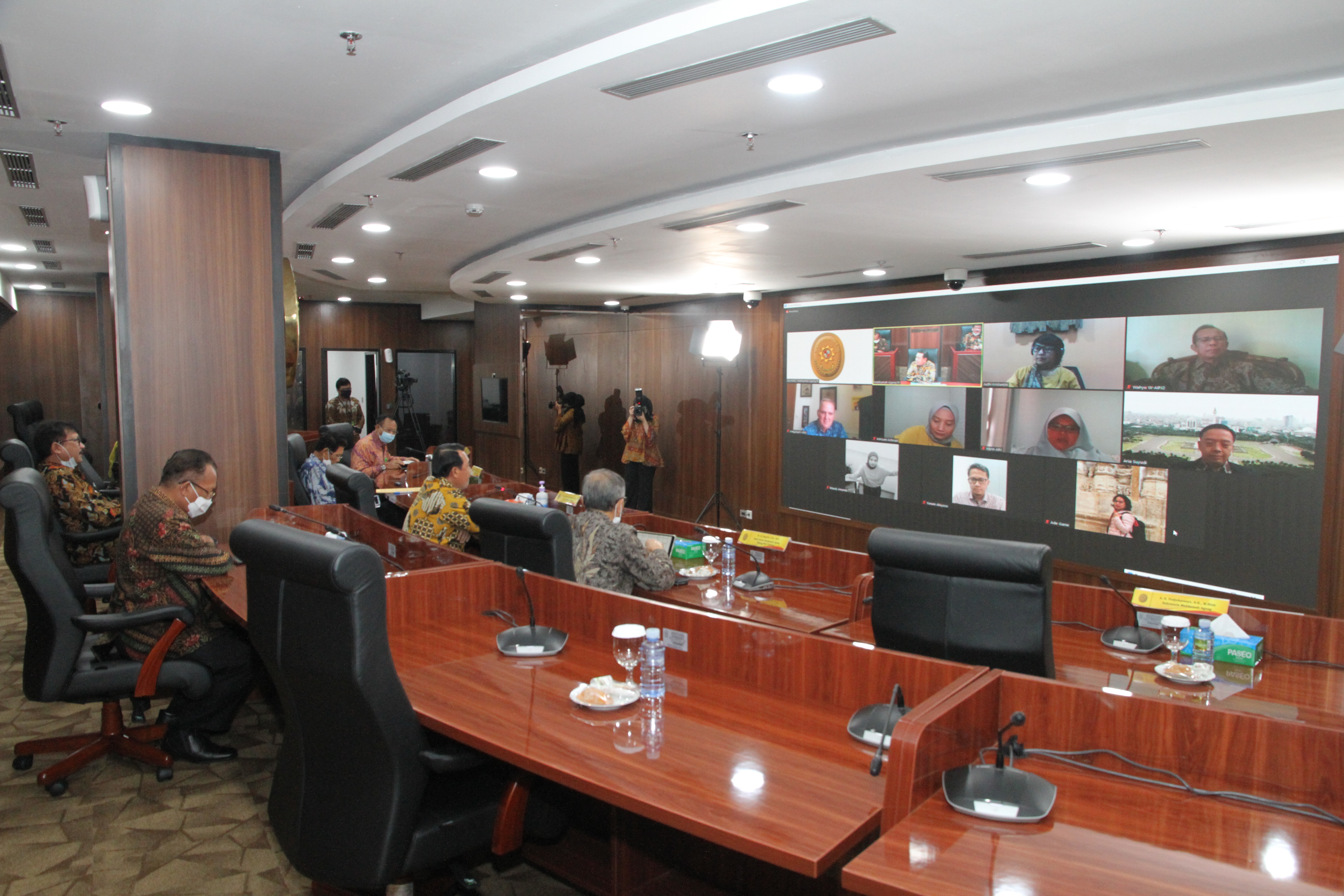 Jakarta-Public Relations: Chief Justice of the Supreme Court Dr. H. M. Syarifuddin, S.H., M.H., opens virtual discussion with Australia Partnership for justice (AIPJ) 2 on Friday, August 7th, 2020 at Command Centre of the Supreme Court, Jakarta. In this occasion, the Chief Justice accompanied by Vice Chief Justice for Non-Judicial Matters Dr. Sunarto, S.H., M.H., Chairman of Development Chamber Prof. Dr. Takdir Rahmadi, S.H., L.L.M., Officials Echelon 1 of the Supreme Court and Head of Public Relations and Legal Affairs Bureau, Dr. Abdullah, S.H., M.S.
The discussion on AIPJ2 programs for the Supreme Court 2020 is welcomed by the Chief Justice, in his remarks, Syarifuddin says that half of AIPJ programs are implemented in the last few years.
"I hope, the other programs can be realized before December 2021. There are many programs that still not implemented yet. If the MOU still not finish yet, we can continue it in the next period such as the implementation of e-court and so on. In addition, the drafting of Regulation of the Supreme Court needs to be continued to show good results," he adds.
Furthermore, Judhi Kristantani from AIPJ 2 describes APIJ 2 programs for the Supreme Court 2020 namely: AIPJ fully supports the Supreme Court to enhancement public trust, to ease commercial dispute cases settlement for survey rate of Ease of Doing Business (EoDB), to prevent maladministration, to support the Supreme Court in drafting consistency decision of drug cases, to support the Supreme Court in providing facilities and inclusive justice service for diffability, and to respond to the covid-19 pandemic.
Vice Chief Justice for Non-Judicial Matters Dr. Sunarto, S.H., M.H, appreciates on the programs delivered by AIPJ 2, he says that there are two problems in the Supreme Court: the first is the gap in public expectations in the Supreme Court services, and the second is public trust to the Supreme Court. "We want AIPJ 2 to contribute the ideas to be put in regulation to solve the two problems," he says
Cooperation between the Supreme Court and AIPJ which is continued to December 2021 expected to run well and needs to be developed. (RS/HAA/PN) (translator:azh/editor:RS)