THE CHIEF JUSTICE ATTENDS VIRTUAL TAKBIR IDULADHA 1442 H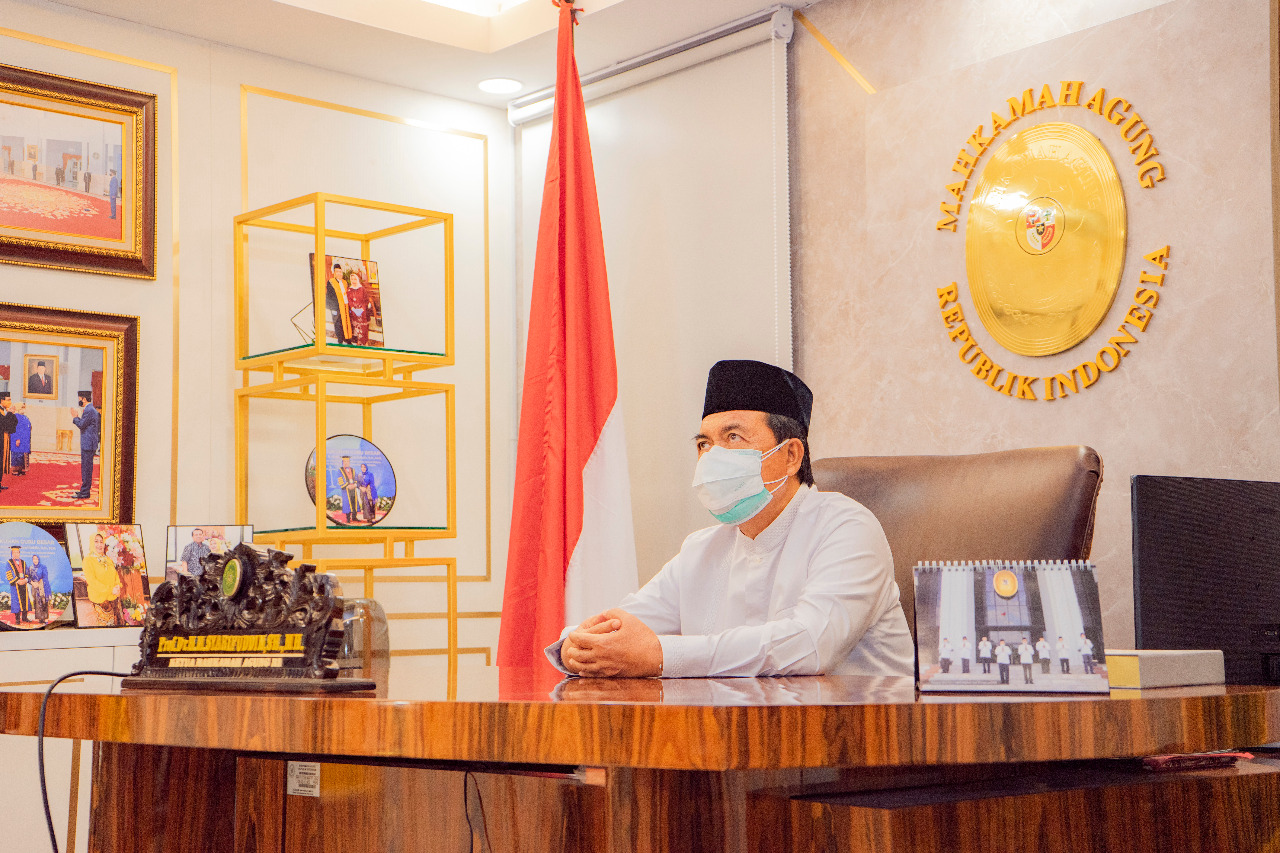 Jakarta – Public Relations: Chief Justice of the Supreme Court of the Republic of Indonesia Prof. Dr. H. M. Syarifuddin, S.H., M.H., attends a virtual occasion Takbir Akbar (shouts of Allahu akbar or God is great jointly) Iduladha 1442 H on Monday, July 19th, 2021 at 7.30 pm. The event was held by the Ministry of Religious that took the theme Together Solidarity to Healthy Indonesia with the hashtag #TakbirdiRumahAja.
The event that lives on national television, Radio, and Social Media of Religious Ministry attended by President Joko Widodo, Vice President KH. Ma'ruf Amin, the ministers of Indonesia Maju Cabinet, Heads of the institution, Religious officials, Governors, Mayors, and the other invitee who present from their own homes.
In the remarks, President calls the community to celebrate Iduladha in a simple and solemn ceremony implement health protocol strictly, and also prioritize the interests of fellow community members to be able to rise during the Covid-19 pandemic.
At the same time, the President also invites the entire community to ask Allah's help, ask for healing for the sick, ask for strength for officers who are at the forefront, and patience for all in facing this pandemic test. The President hopes the entire community to pray that this pandemic would soon pass. "This is a momentum to strengthen solidarity in the spirit of brotherhood, ukhuwah islamiyah, ukhuwah wathaniyah, and ukhuwah insaniyah which will be able to multiply our energy to gather strength, optimistic to rise together," the President said.
The joint Takbir ceremony was led by Professor of Syarif Hidayatullah State Islamic University Jakarta KH. Said Agil Husin Al Munawwar. (Translator:azh/Reviewer:RS)